El Otro Tejido
"Sobre la Tierra se tejen las montañas y los ríos"
miércoles, 8 de junio de 2016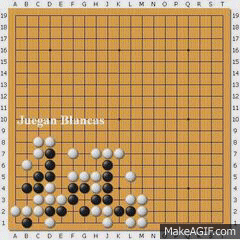 Responsable de esta publicación

Pablo Tezkatl
Hora 03:48
4 comentarios:
Enlaces a esta entrada


lunes, 8 de febrero de 2016
El Go ha inspirado a artistas de todo tipo...
Dibujo, diseño, pintura, grabado, música, poesía, fotografía, literatura, arquitectura, escultura y cine.
https://www.facebook.com/theartofgo/?fref=ts
https://www.facebook.com/artandgogame/?ref=ts&fref=ts
Go Seigen (1914-2014)
Debbie Tang
Mary Jo Mendoza
We can start peace around the Globe, Go!
San Jose, USA
Yamato Nakamura
Towards the heights of Go
Niigata, Japan
April Ye, 14 yrs old
Talking Hands
Cupertino, CA, USA
April Ye
Dragon Slay - A Fighting Game
Cupertino, USA
April Yiwen Ye
Stories on the board
Cupertino, California, US
The Ear Reddening Move
Ikumi Watabe
Play with all your soul
Niigata, Japan
Elitca Ganeva
Ocean's Go
Sofía, Bulgaria
Ofer Zivony
Momoko Higuchi
My grandpa's Go lecture
Niigata, Japan
Paula G. Herrera Corona
Las líneas del Go
México, DF
Joseín Moros, Venezuela
Hikaru vs Hanuman (Tailandia)
Jamia Mei Tolentino
Happiness with Go
Valenzuela City, Philippines
Hana Richelle Tan
Having fun with Go
Manila, Philippines
Sicheng Zeng
Hidden Go
Cary, North Carolina, US
Goh Wern Sze
Go Towards better relationship
Penang, Malaysia
Thalestris Solano Orozco
Go waterfall
México, DF
Go Seigen por Ofer Zivony
Krisheree Shimamoto, 12 yrs old
Go Pagoda
Kapolei, Hawaii, USA
Ari Mateo Salazar Peña
Go lives in my nature
México, DF
April Ye
Eternal Go - Time warp
Cupertino, USA
Lilian Zavala Romero
Dra-Go
México, DF
Aaron Ye
Awesome Aaron loves Go!
Cupertino, California, US
The Tale of Genji
The Tale of Genji
The Tale of Genji
Chen Yew Soo
E-Go (Go in electronic era)
Penang, Malaysia
Go Seigen
Go Seigen (1914-2014)
Port Tottori, Japón
Academia de Go de Jalisco por Francisco Arroyo
Academia de Go de Jalisco por Francisco Arroyo
Academia de Go de Jalisco por Francisco Arroyo
Academia de Go de Jalisco. Edificio Administrativo. (Francisco Arroyo)
Academia de Go de Jalisco por Francisco Arroyo
Salón de Go
Partida comentada en vivo
Edward Lasker en Chumley's, Nueva York, 1940
A Beautiful Mind
The Divine Move (2014)
Drinking Christ (The Divine Move, 2014)
Escena del desenlace en The Divine Move (2014)
Responsable de esta publicación

Pablo Tezkatl
Hora 16:15
No hay comentarios.:
Enlaces a esta entrada